One of EPS's Ph.D. students, Fatematus Nishi, and faculty members, Prof. Bob Kopp, featured in the Rutgers Today article as members of the EPS Department actively contribute to solving real-world climate issues.
By
Kitta MacPherson
Training program created in wake of Superstorm Sandy brings graduate students from varied disciplines together to solve real-world climate problems
As a child, Dan Blanco watched low-income neighborhoods in his native Chicago flood during storms while the more affluent enclaves did not. Now, he is pursuing a doctoral degree in atmospheric sciences at Rutgers so he can further explore – and find ways to diminish – the often inequitable ravages of climate change.
Fatematuz Zohora Nishi, who grew up in a disaster-prone coastal area in Bangladesh, is also at Rutgers because of her concerns about changing climate. She is earning a doctoral degree in earth and planetary sciences so she can better understand sea level rise and inform endangered communities with her research.
Josephine O'Grady, a first-year graduate student at Rutgers, has set her sights on earning a degree in the master of public policy program at the Edward J. Bloustein School of Planning and Public Policy. A native of Bay Head in Ocean County, O'Grady studied marine life in nearby Barnegat Bay from the time she was a girl and wants her professional work to intersect with the many community environmental organizations she grew up with.
Blanco, Nishi and O'Grady are part of a cadre of Rutgers graduate students in a special initiative at Rutgers that is one of the first in the nation. They are among the newest participants in the Coastal Climate Risk and Resilience (C2R2) graduate certificate program, where top students from a variety of scientific, engineering, public policy and urban planning backgrounds are trained and work together and then placed into partnerships with local municipalities confronting real-time issues brought about by climate change.
"If we want to have a real-world impact on finding solutions to climate change, we are going to need people who can talk both to other researchers and also talk to the people who are actually having the problems," said Robert Kopp, a professor in the Department of Earth and Planetary Sciences at the Rutgers School of Arts and Sciences. Kopp, who also serves as director of the Megalopolitan Coastal Transformation Hub, a new 13-institution, National Science Foundation-funded partnership led by Rutgers, founded C2R2 with several Rutgers colleagues following the impact of Superstorm Sandy. "Our goal is to produce next-generation researchers whose science is deeply guided by those conversations, and also to produce the critically important leaders who foster those conversations and help link climate research to real-world climate action. Many of our students want to do science that is useful in the near-term, not just the long-term."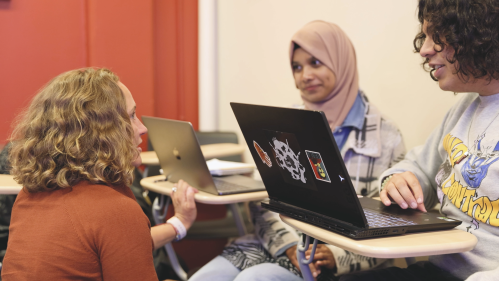 Doctoral students Fatematuz Zohora Nishi and Dan Blanco discuss their coastal climate resilience models built during a recent class led by Lisa Auermuller (right). [Lucia Mostello/Rutgers University]
Started with support from the National Science Foundation and hosted at the Rutgers Institute of Earth, Ocean and Atmospheric Sciences (EOAS), the C2R2 certificate program is a collaboration between EOAS, the Edward J. Bloustein School of Planning and Public Policy, the Rutgers School of Arts and Sciences, the Rutgers School of Environmental and Biological Sciences, the Rutgers School of Engineering and the Rutgers School of Graduate Studies.
"The professionals who will solve the climate problems of tomorrow are our students," said Jeanne Herb, another founder of the program and associate director of the Environmental Analysis and Communications Group at the Bloustein School. "Through C2R2, our students acquire the knowledge and practical skills needed to become leading researchers and practitioners tackling the critical challenges of coastal resilience."
Herb said the program is deliberately designed to force students to take on unfamiliar subjects, including a course on science communications, and become familiar with novel environments. During a two-week boot camp, students and professors travel to coastal communities in six different New Jersey counties, conducting scientific fieldwork and meeting with community officials.
Students in the program have served several coastal communities in New Jersey, preparing detailed analyses addressing climate challenges for Atlantic Highlands, Keansburg and Perth Amboy.
The plan drafted for Perth Amboy involved elements of oceanography, biology, landscape architecture, urban planning and public policy that would address the natural hazards and climate change effects threatening the city. Students recommended taking a "green infrastructure" approach such as retrofitting existing buildings to be more resilient and sustainable.
"The professionals who will solve the climate problems of tomorrow are our students."
Jeanne Herb
Rutgers Environmental Analysis and Communications Group
Lisa Auermuller, the assistant manager for the Rutgers New Jersey Agricultural Experiment Station's Jacques Cousteau National Estuarine Research Reserve in Tuckerton who teaches a course on climate risk and resilience, said she would like students to look at resilience as more than just the ability to bounce back from adversity. She wants students to come up with ideas that will leave citizens and their communities in a stronger position than before.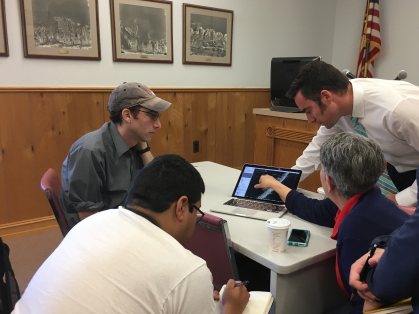 Rutgers professor Robert Kopp (at upper left) leads his students in the C2R2 program on a visit with police and municipal leaders at Harvey Cedars on Long Beach Island. [Lucia Mostello/Rutgers University]
"In this program, I also want them to consider multiple perspectives," Auermuller said. "What does it mean to communicate science? What does it mean to work with a municipality or with stakeholders? And how can our work benefit more than just our own learning but really be put into use in the community?"
During a recent class, more than a dozen students peppered a virtual visitor, Angela Andersen, the sustainability coordinator for Long Beach Township on Long Beach Island with questions about her experiences post-Sandy as well as present efforts to protect shorelines from erosion.
Ben Goldberg, a student in Auermuller's class who is in his second year of a master's program in city and regional planning at the Bloustein School, said he plans to help cities implement resilient designs.
His journey in the years after college – where he worked as an organic farmer, managed a farmers market, formally studied agroecology and worked as a cook in sustainably minded restaurant kitchens – led him to be in the right place and program, he said.
"Climate change is the defining issue of my generation," said the Washington, D.C. native as he looked soberly around the classroom at his peers. "I believe there are changes coming that people are not ready for. This program gives me inspiration that I will be able to help."
Other founding faculty of C2R2 include Clint Andrews, a professor and associate dean for research at the Bloustein School; Carrie Ferraro, who originally served as administrative director for the program and is now assistant professor of professional practice in the Math & Science Learning Center at the School of Arts and Sciences; Jie Gong, an associate professor of civil and environmental engineering in the School of Engineering; and Rebecca Jordan, now a professor in the Department of Community Sustainability at Michigan State University.
Rutgers led the pursuit of climate solutions after Superstorm Sandy. Visit "In Sandy's Wake" to learn how.